Guaranteed Asset Protection (GAP)
---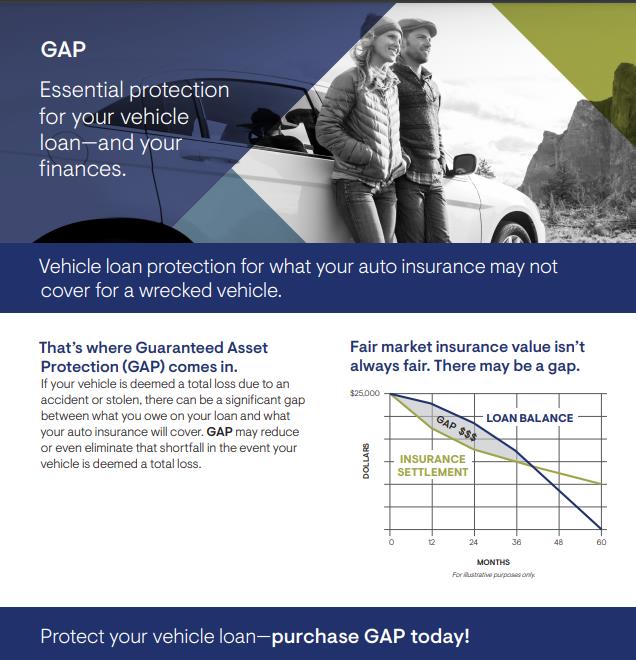 Added Protection for Your Vehicle and Northwest Municipal Car Loan. GAP is an affordable way to protect against potential financial loss. Gap is a waiver which pays the difference between your insurance company's actual cash value of your car, less your deductible, and your Northwest Municipal Credit Union loan balance in the event the covered vehicle is stolen, damaged beyond repair, or otherwise declared a total loss.
---
If your car is stolen or totaled, its actual cash value as determined by your insurance company can be thousands less than the amount that remains on your car loan balance which you are obligated to pay.
GAP can save you from making loan payments for a vehicle that's beyond repair, stolen or unrecoverable.
You should consider protecting yourself with GAP if you have financed more than 75% of the value of your vehicle, or intend to purchase a car with little or no money down.
---
GAP is available for both new and used vehicles, including all car makes and models, light trucks, vans, personal watercraft, snowmobiles, ATVs, motorcycles and some small RVs and boats valued up to $100,000.
Covers the difference between actual cash value (less deductible) and outstanding loan of up to $50,000.
Can be purchased at any time during the life of an Northwest Municipal vehicle loan, for loans up to 84 months, and is completely refundable if canceled within the first 90 days.
Ask about GAP when you apply for your Northwest Municipal vehicle loan.
GAP insurance is available through Northwest Municipal Credit Union for only $289. This is the guaranteed lowest price anywhere! No one else offers GAP for this price.